Webinar Series featuring Taylor Edrington, Pat Dorsey, Russell Miller, Landon Mayer and More!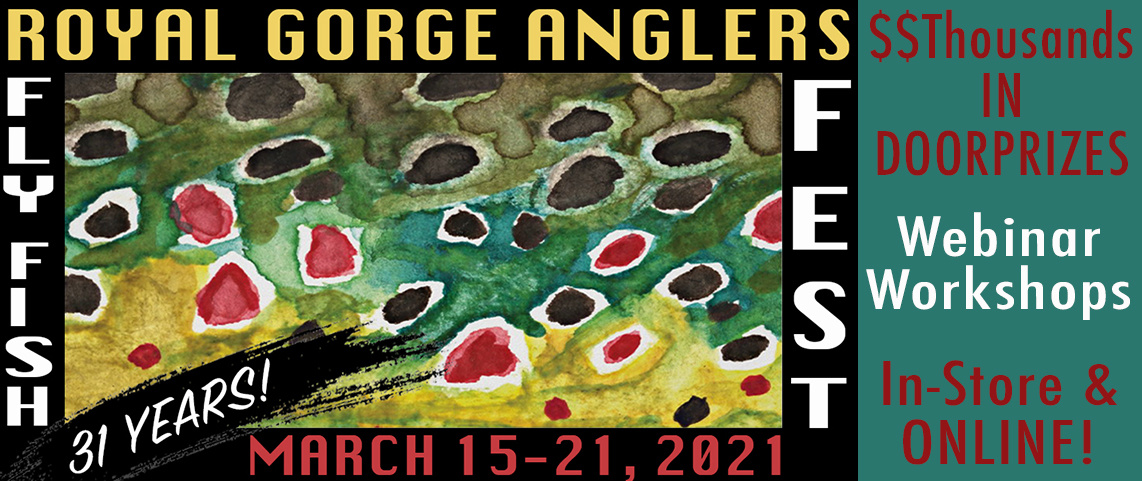 We're giving away $$Thousands...YES,

$$Thousands

in gear

(see prize lineup below)! Everyone who shops with us in-store or online this week will get in the hat for our general prize pool (for every $50 spent you get a FREE entry into the general doorprize pool)!
 

YES, Guided Trip Bookings also Qualify! Shop Trips NOW

I'm sure many of you will remember how limited stock was on products within the fly fishing industry last year...well, that won't change this year. We've had a massive influx of new anglers in the sport, and production of gear/ flies isn't back to normal yet. Long story short, take advantage of this chance to get in on some great prizes...and get some of the the gear you need/ want for the season. It never hurts to #shopsmall and support your favorite family owned flyshop in the process! Check out our doorprize details below...and remember you may shop in-store or online...or call in an order (888) 994-6743, and shipping is FREE over $50! 

March 15th-21st ONLY...we'll pick winners on Monday, March 22nd!
Featured Doorprizes
$500 Patagonia Shopping Spree
SAGE Payload 6wt Fly Rod ($575 Value)
$250 Simms Shopping Spree
SAGE Spectrum LT 5/6 Reel ($400 Value)
RIO Gold Elite WF-5 Fly Line ($90 Value)
& MORE!

Join us for our week-long Webinar Series featuring some of the greatest personalities in the Fly Fishing Industry!
This webinar series is a part of our awesome 31st Annual Fly Fish Fest, and a VIP Pass gives you access to every webinar for the week!
IMPORTANT: Webinars are recorded and available to ALL VIP Pass-holders! So, if you miss a LIVE webinar or buy a pass late, we can provide you the recorded link for any webinar you wish to view. All webinars will be available to view until the end of March for pass-holders. Passes are still available to view this incredible content...so grab a pass now, and ENJOY!
Webinars will begin at 7PM MT every evening...starting on Monday, March 15th...culminating on Sunday, March 21st. Once you've purchased your pass, we'll add you to the attendee list on GoToWebinar and you'll receive attendance instructions for each webinar...along with a reminder email 6 hours prior to the event. Check out our RED HOT lineup below, and remember we've capped the number of passes...so grab yours ASAP! BUY NOW

CURRENT LINEUP SCHEDULE (MT)
Monday, March 15th (7PM): "Fly Fishing the Seasons of the Arkansas" with Taylor Edrington
Tuesday, March 16th (7PM): "Baja Beach on the Fly" with Lance Peterson
Thursday, March 18th (7PM): "Fly Fishing the South Platte River" with Pat Dorsey
Friday, March 19th (7PM): "Euro Nymphing Tactics" with Russell Miller
Saturday, March 20th (7PM): "Mastering the Short Game" with Landon Mayer
Sunday, March 21st (7PM): "Backcountry 2.0: Beyond the Basics" with Paul Vertrees
GoToWebinar is a breeze to use (no account needed)!
GoToWebinar is an extremely easy to use platform and you can view and interact with a smart phone or computer, and best of all...you don't even need an account! We do recommend joining your first webinar a few minutes in advance so that the app has time to download to your browser...or you can download the app to your phone in advance. Easy to understand attendance instructions will be emailed to you for each webinar

Presentation/ Presenter Details
"Fly Fishing the Seasons of the Arkansas" with Taylor Edrington
This is a whopper! Learn how to approach the Arkansas River Freestone throughout its various seasons...
Topics:
-Flowrate and Conditions
-Key Rigging Techniques
-Recommended Patterns
-Access Snapshot
& MORE!
Taylor Edrington
Taylor Edrington was raised in the fly fishing industry, and studied on the river under the tutelage of such greats as Gary Lafontaine, Mel Krieger, Chuck Fothergill, Mike Lawson and his father Bill Edrington. Suma Cum Laude graduate of the Leeds School of Business at the University of Colorado, Taylor now owns and operates Royal Gorge Anglers on the Arkansas River. Prior to his ownership of Royal Gorge, Taylor grew up guiding and instructing on the Arkansas River and various other Rocky Mountain watersheds. For just shy of a decade, Taylor guided in both Central and Southwestern Alaska, and is a US Coast Guard Certified Saltwater Captain. Taylor also worked as the general manager of a flagship lodge in the Iliamna Region of Alaska for 3 seasons. Along with his fly-fishing pursuits in the US, Taylor has hosted fly-fishing adventure travel for clients on 6 continents through his global adventure travel business, Fly Fishing Adventure Company and holds three fly rod world records. Beyond the details, Taylor is an extreme advocate for fishery conservation and simply strives to build awareness about the sport of fly-fishing for all ages.
"Baja Beach on the Fly" with Lance Peterson
The Baja beach fishery is a challenging mix of hunting and fly fishing, in one of the worlds most scenic venues. Featuring a diverse assortment of species in a dynamic, ever changing environment; Baja's beaches are renowned as one of North America's most exciting surf fishing destinations. Lance will spotlight the fishery, the fish and more awesome info! Be sure to join in on the fun with a true pioneer of Fly Fishing the Beach in Baja, MEX!
A little about Lance, from Lance:
I've been guiding fly anglers in Baja since 2000, and a full time resident of Mexico since 2006. My wife and I have spent the past 15 years living entirely off the grid, in a remote corner of the East Cape region with our pack of dogs and a cat.
During my time here, I've enjoyed all forms of fishing; from offshore, to inshore, to estuary. However, my primary area of interest has been fishing the beaches of southern Baja, with a particular focus on roosterfish. Roosters have become a highly sought after catch for salt water anglers, and the pinnacle method to achieve this goal is without a doubt sight casting from shore. Since 2010 I've personally set, or guided, 3 IGFA fly fishing world records for roosterfish. All taken sight casting from shore with my original fly patterns.
"Fly Fishing the South Platte River" w/ Pat Dorsey
The South Platte River is one of America's top tailwater fisheries. From the headwaters to the outskirts of Denver, the South Platte River has something for everyone. Dorsey takes you on a tour of the South Platte watershed, plus offers helpful advice on river access, entomology, matching the hatch, fly selection, and much more.
Pat Dorsey
A native of Colorado, Pat Dorsey has been guiding for nearly 30 years. Pat Dorsey spends well over two hundred days a year on the water, a combination of guiding customers, hosting destination travel-trips, and personal days on the water. Pat Dorsey is the head guide and co-owner of the Blue Quill Angler fly shop in Evergreen, Colorado. He oversees and trains more than 25 guides, setting the standard for integrity and professionalism in the Blue Quill Angler guide operation. Dorsey also, maintains an online stream report that monitors stream flows and conditions for the Blue, Colorado, South Platte (Cheesman, Deckers, Spinney Mountain Ranch, and Elevenmile Canyon), North Fork of the South Platte, and Williams Fork Rivers. Pat Dorsey is a Simms Ambassador, a member of the Sage Elite Pro Team, Fishpond Ambassador, Orvis Pro Team Member, Yeti Pro staff, and Scientific Anglers pro staff. Pat Dorsey is the Southwest Field Editor for Fly Fisherman Magazine.
In 2005, Pat authored the book, A Fly Fishing Guide to the South Platte River, a complete how-to fly fishing manual for the entire South Platte River drainage. It encompasses a thorough look at each section of the river detailing the hatches and recommended fly patterns for each of the four seasons of the year. Pat Dorsey is the proud father of three wonderful boys, Forrest, Zach, and Hunter. He is also blessed with two step children, Nicole and Michael Richardson. They, like their dad, enjoy fly fishing. His wife, Kim, is an avid angler and often appears with Pat at trade shows and other speaking engagements. Kim and Pat Dorsey, also, host a yearly trip to Alaska Sportman's Lodge each September, Nomadic Waters in Brazil, and Rio Manso Lodge (Patagonia) each April and December with a group of special clients.
"Euro Nymphing Tactics" w/ Russell Miller
Learn the in's and out's of Euro Nymphing with Fly Fishing Team USA member, Russ Miller! Russ will talk rigging, flies, and technique...and we'll guarantee your angling skillset will be better off after this great seminar!
About Russ...directly from Russ:
Committed to a life of adventure with a fly rod in hand. When I became obsessed with fishing from a young age, I had no idea where it would take me and who I would meet along the way. After spending 16 years working in the industry split between guiding, working as a fly shop junkie, and then moving to Seattle to join the Sage and RIO team, I consider myself to have a lucky life. Currently I work for Umpqua in Louisville, CO, which keeps me following my passion for fly fishing and chasing stories and capturing adventures. My kids have brought be back to my beginnings of fishing as we enjoy the outdoors catching fish and throwing rocks in the river.
"Mastering the Short Game: Proven Tactics for Catching Selective Trout" with Landon Mayer
Just as in golf, where the match is most often won on the putting green, most trophy trout are caught within 30 feet or less. Veteran Colorado guide Landon Mayer covers close range tactics with nymphs, dry flies, and streamers, and teaches you how to control your cast, make accurate presentations, and feed fish with precise drifts.
This exciting new presentation, with epic hook ups and fight scenes, features footage from Mayer's home waters in Colorado, as well as public water in Pennsylvania and Argentina, and will be sure to take your trout game to the next level.
* Essential tactics for dry flies, nymphs, and streamers
* Mayer's favorite flies and rigs
* Core casting and presentation techniques in detail

Landon R. Mayer
Landon Mayer's angling success is fueled by an addiction to pursuing large trout with small flies and lightweight fly-fishing equipment. Mayer enthusiastically teaches and demonstrates his techniques and on-river knowledge to fellow anglers and has developed innovative strategies for sighting, hooking, and landing selective trout. He shares these tips and secrets in his books The Hunt for Giant Trout: 25 Top Locations in the US to Catch a Trophy (new for 2019), Trout Tips: A Guide's Secrets, Tactics and Techniques, Colorado's Best Fly Fishing, Sight Fishing for Trout, and How to Catch the Biggest Trout of Your Life, in addition to his new film with Headwater Media: Mastering the Short Game.
Landon's passion for fly-fishing has allowed him to make several noteworthy contributions to the sport on and off the water. This has included travels to fly-fishing related organizations of the Mid-Atlantic, West, Pacific Northwest, Southwest, and Southern states, as well as teaching through guided trips, fly-fishing classes, presentations, and demonstrations of his unique techniques. Mayer is also a contributing writer for Fly Fisherman and High Country Angler magazines.
"Backcountry 2.0: Beyond the Basics" w/ Paul Vertrees
How to move from "survival" to "thrival" with a fly rod in your hand in the backcountry! Advanced how-to, including navigation, prospecting for backcountry water, gear selection, camp setup, wilderness areas, and how frontcountry can be as fun as backcountry.
Paul Vertrees
A fifth-generation native Coloradan, Paul grew up in the shadow of the Mt. Evans Wilderness, in Colorado's Front Range. Paul has been fly fishing for many years, and over a decade ago he embraced tenkara, traditional Japanese fly fishing. Since his introduction to tenkara, Paul has greatly expanded the capabilities of fixed-line fly fishing and became one of the first professional tenkara guides in the United States. He has extensive experience in lightweight backpacking and backcountry angling on remote streams and high lakes, and continues to hone his skills by being active in the tenkara community and expanding his knowledge of this simplified, elegant method of fly fishing. Paul specializes in guiding backcountry fly fishing trips, and designing and building custom tenkara products for Royal Gorge Anglers in Cañon City, Colorado.