Theres more than classic cars in this part of the world...Cuba is home to some of the BEST Saltwater Fly Fishing on Planet Earth!
For many, many years Cuba was a little saltwater secret...locked away from Americans. However, with trade relations between the US and Cuba now opening up, we now have much easier logistics to get into this great country to enjoy its fantastic angling opportunities! What won't change is the incredible recreational regulations on all of Cuba's fisheries...pressure will stay low, and Cuba will remain one of the most exclusive Saltwater Fly Fishing destinations in the world!


Saltwater Fly Fishing in Cuba is just getting started! Avalon is a top notch operation with access to all the finest Fly Fishing destinations in Cuba!
Fly fishing in Cuba is far different from other destinations in the Caribbean. Only in recent years has this flats fishery been developed, and you are fishing waters that have not seen sport fishing for nearly fifty years. Cuba has given these pristine areas protection as Cuban National Marine Parks, where no commercial fishing is allowed other than for lobster. Flats fish like Tarpon, Permit, Bonefish, Snook, Mutton Snapper, Barracuda, and a variety of Jacks are found in incredible numbers and since the fishing pressure is so light in these areas the fish rarely encounter sport fishermen and are unusually easy to catch.
Think about a place where you can fish more than 100 miles of flats without seeing another fisherman, a place where the flats fishing is so good, you can catch seven species of fish in one day, a place where big bonefish run toward your fly even when it hits the water too hard, rather than streaking off the flat in the other direction, a place where you have a legitimate chance for a Grand Slam every day of the year, a place where big permit are as plentiful as they were in the Florida Keys 75 years ago, a place where you can wade miles of white-sand flats in your bare feet for big bonefish, a place where you'll find enough big tarpon, jacks, 'cudas, and sharks on the flats to wear you out! This is Cuba on the fly!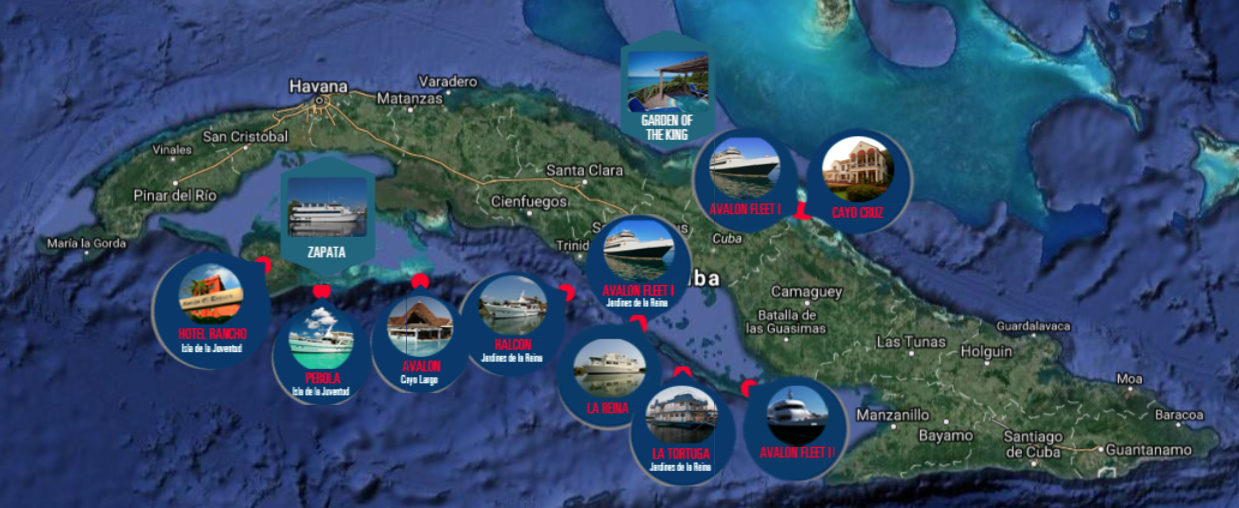 Avalon has many destinations in Cuba to choose from. Avalon owns and operates land and mothership based operations in six different locations across Cuba. It really boils down to what species you are after, as to the operation and time frame our experts at Fly Fishing Adventure Company would suggest. All of the following destinations are available based on season: Cayo Largo, Isla De La Juventud, Cayo Cruz, Gardens of the King, Zapata, and Jardines de la Reina

Accomodations will depend on which destination you choose, varying from state rooms aboard a mothership to spacious suites within a beach front cabana. The mothership's and yacht's cabins have been built with extreme care, emphasizing the importance of comfort and safety above all else. You'll also find a blend of exquisite décor and great taste, so you definitely won't miss anything from home. At all Avalon destinations you'll experience a warm and attentive service during your trip.

Cuba is one of the most exclusive Saltwater Fly Fishing destinations in the world. Start planning a trip of a lifetime with Fly Fishing Adventure Company today!