Fishing Report For the Arkansas Tailwater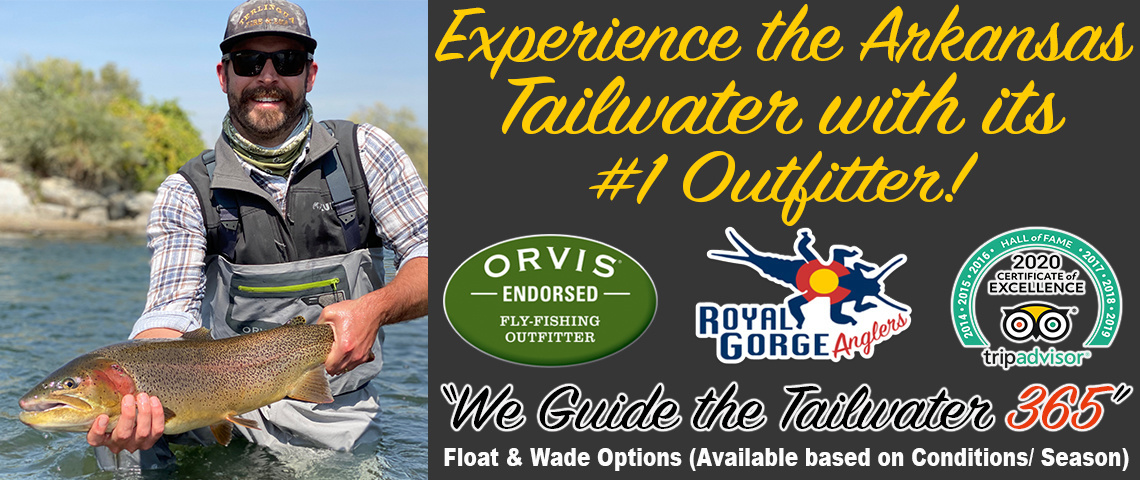 November 27th, 2020
Arkansas River Tailwater below Pueblo Reservoir (Pueblo Tailwater)
General Overview
We hope you all had an enjoyable Thanksgiving holiday! Saturday (tomorrow) is slated to be 60 degrees, and we've got plenty of 50 degree days upcoming. Lake turnover seems to be complete and clarity is returning rapidly on the Tailwater (2-3ft of visibility currently). Its a small bug game on the majority of our fisheries now, but you can expect to see hatches of Midges, Tricos and Fall Baetis throughout the course of the day. Our guides have been producing some great trips on the Tailwater as of late, and the forecast looks fantastic this week...plan some days! The winter season offers some of the most consistent fishing of the year on the Tailwater with building BWO lifecycle activity, so plan some days...and if you're ready to take your game to the next level, give us a shout to grab a guide for a day! (888) 994-6743 ext 2
 Give us a shout if you'd like to book a winter wade trip or pre-book a float trip next season with our phenomenal tailwater guides (888) 994-6743 ext 2...available float dates are limited as we are the only float outfitter on the tailwater. 
*Note: Remember, the Arkansas Tailwater is one of the most consistent Winter fisheries in the state of Colorado! We are beginning to book many of our Winter Days to capacity already.  Please call us at (888) 994-6743 ext 2, or visit our Guide Trips online to inquire about availability if you're interested in booking a trip...before all our days are gone!

Stream Conditions
Above Pueblo Flowrate: 75 cfs (Hatchery Outflow is Minimal)
Clarity: Stained ~ 2-3ft

Suggested Methods
The Winter Season on the Arkansas Tailwater involves very consistent bug activity...but those bugs are small. Be ready with full lifecycles of Midges, Tricos and Psuedocloeon Mayflies (Small/ Dark BWO's). While technical low water nymphing rigs will of course be your staple, be sure you're prepared with a solid selection of emergers and dries. With lower flows, look for fish to be condensed in the heavier structure and deep tailouts.  
Royal Gorge Anglers operates the oldest fly fishing guide service and full service flyshop on the Arkansas River Freestone and Arkansas River Tailwater. Our guide service also offers various guided fly fishing experiences on the South Platte River, Gunnison River, Stillwater, Private Ranches, Backcountry and more. CLICK HERE to Learn more about our Guided Trip Options or Call us (888) 994-6743 ext 2 to talk to us directly...