Fishing Report For the Arkansas Tailwater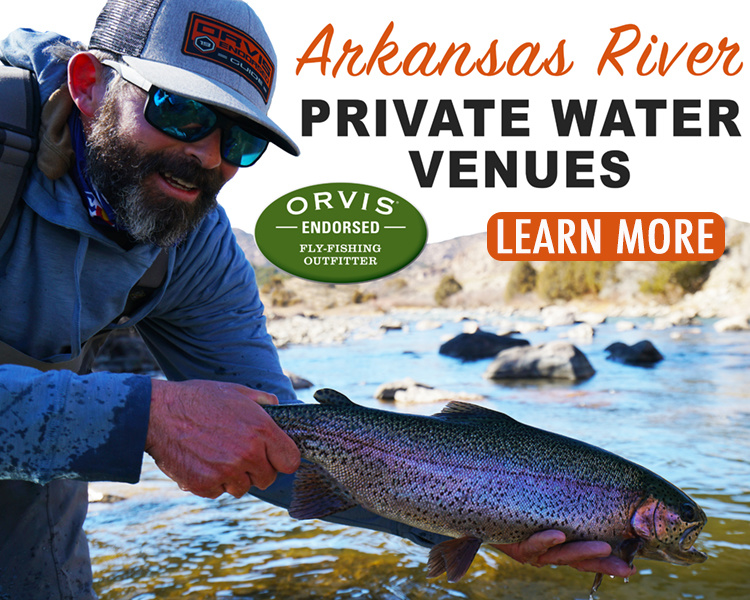 May 12th, 2021
Arkansas River Tailwater below Pueblo Reservoir (Pueblo Tailwater)
General Overview
Flows are finally bumping on the tailwater, and we would expect to see them hold over 300cfs until post runoff...though hard to say how consistent the flowrate may be (releases have been very inconsistent over the last month and snow pack is very low on the Arkansas Basin). With higher water, fish will still key on the small bugs you're a accustom to...however they will also be more opportunistic on larger attractor nymphs, streamers and dries. Fish still like heavy structure with more water, but also watch the edges and outside seams for holding fish.

Though its mostly still a small bug game for certain, those bugs (BWOs & Midges) have been very active within all lifecycle stages. We've had some nice overcast days and looks like we've got more upcoming, which are always great for heavier activity in the BWO emerger and adult categories...and on the flip-side your brighter/ blue bird days the Midge category will typically be your breadwinner. In addition, we've seen some fish respond to caddis larva/ pupa...so keep those on your radar as well. Clarity is still exceptional on the Tailwater and will be until flows bump dramatically. Our guides have been producing some great trips on the Tailwater as of late, and the long-term forecast looks fantastic ...plan some days! The Spring season offers some of the most productive fishing of the year on the Tailwater with building BWO lifecycle activity, so plan some days...and if you're ready to take your game to the next level, give us a shout to grab a guide for a day! (888) 994-6743 ext 2
 Give us a shout if you'd like to pre-book a float trip with our phenomenal tailwater guides (888) 994-6743 ext 2...available float dates are extremely limited as we are the only float outfitter on the tailwater. 
Please call us at (888) 994-6743 ext 2, or visit our Guide Trips online to inquire about availability if you're interested in booking a trip...before all our days are gone!
Stream Conditions
Above Pueblo Flowrate: 383 cfs (Hatchery Outflow is ~30cfs)
Clarity:  Clear

Suggested Methods
The Spring Season on the Arkansas Tailwater involves very consistent bug activity...and though for the most part its a Small Bug game, we do start to fish some larger flies with more water. Be ready with full lifecycles of Midges, Tricos, Caddis and Mayflies (Small/ Dark BWO's). Our guides have began to take fish on larger attractor nymphs as well in the Cranefly Larva, Psycho Prince, and Two-Bit Hooker categories.
Royal Gorge Anglers operates the oldest fly fishing guide service and full service flyshop on the Arkansas River Freestone and Arkansas River Tailwater. Our guide service also offers various guided fly fishing experiences on the South Platte River, Gunnison River, Stillwater, Private Ranches, Backcountry and more. CLICK HERE to Learn more about our Guided Trip Options or Call us (888) 994-6743 ext 2 to talk to us directly...